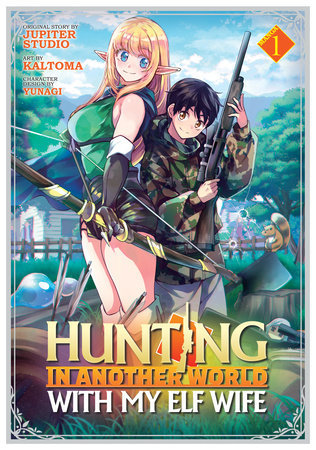 From Jupiter Studio comes the first volume of the isekai fiction manga 'Hunting In Another Life With My Elf Wife.' It is drawn by Kaltoma with Seven Seas Entertainment releasing the English version. 
Japanese po-hunter Shin Nakajima finds himself prey while saving a child from a wild bear. To his surprise, he finds himself awakened not in Japan, but in the magical world. Being sent there with his shotgun, he is given a magic bag to refill his ammo and get other items by a spirit called Nanotess who communicates with him through his walkie-talkie. He soon meets the elf maiden Saran. Before too long, the two fall in love and get married to become a hunting duo. 
Okay, this manga was a lot of fun. Engineers, salarymen, artists, farmers, and other workers have been highlighted in the fantasy worlds of the isekai genre. This is the first time that I have come across a story that works in a hunter. I found that particularly interesting because Japan has incredibly strict gun laws, though there are some exceptions for hunting. That made this one even more intriguing. 
Shin is a likable character who does not seem to be bothered that he died in his home world only to be awakened in a magical world. He just seems to go with the flow. Saran is also very likable. She is somewhat of a mutant elf that is readily given away by her village. They seem to see her as a pariah and when Shin expresses interest in her, they happily marry off. That made the romance seem like a whirlwind, but I still had a good time. 
It is rated for teens, so I would keep the kids away from this one as it has some inappropriate stuff since it is about a married couple.
With this in mind, it is the start of a good adventure tale and instead of swords, we get guns. Not too bad.